Logansport Parks to Host 7th Annual Christmas In the Park
November 30, 2023 at 11:33 a.m.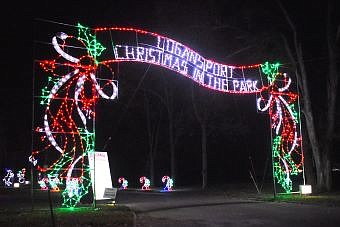 ---
---
For the 7th year, The Logansport Parks & Recreation Department and the Logansport Parks & Recreation Foundation, will be offering a holiday display of lights at Spencer Park for the community and the surrounding area. Many sponsoring organizations and businesses are a part of this very special event. 
Christmas In the Park's opening night will take place on Friday, November 24th and will end following New Year's Weekend. The lights will remain on from dusk to dawn. New additions to the park include a new display sponsored by Redline Equipment, a new USA flag, an additional specialty tree, and several new entries created by the Century Career Center Welding Students. In addition, the Century Career Center Media Students are creating original & unique commercials that will be available through the Christmas In the Park Facebook page found at "facebook.com/ChristmasInthePark". 
Before you go, some things to know: 
Visitors will enter from East Broadway and Cass Plaza Road. As you enter Christmas In the Park, drive slowly, don't pull over in any parking areas. People MUST remain in their vehicles for their own safety. 
Pedestrians are permitted only on Monday's and Tuesday's. Spencer Park will be closed to vehicle traffic on those two nights. Visitors that wish to drive-thru should attend on Wednesday through Sunday nights.
There is no cost to enjoy the holiday lights. Although donations will be accepted gratefully.
No volunteers will be on duty. •Holospex will be handed out at the Light Up Logansport Parade. A small supply will also be available for pick up at the Logansport Parks Office, 1701 Dividend Dr. 
Homeowners on Broadway Boulevard are encouraged to decorate their homes as well, since vehicles will use Broadway to enter Christmas In the Park.
Spencer Park's High Street Entrance will be closed to vehicle traffic beginning November 6th, through the holidays until the lighting décor has been removed. 
Daytime park users should plan to park their vehicles on the north side of High Street or near the lower pavilion to utilize the park. 
The Parks Department has requested that park users please stay away from the Christmas décor in the Park. 
Once again, it could pose a danger due to guy wires as well as electrical wires. We do ask that all daytime walkers please stay on the sidewalk and roadway. 
Questions can be directed to the Parks Administrator, Janet Fawley at 753-6969 or e-mail at parksadministrator@cityoflogansport.org.