Muehlhausen Aquatic Center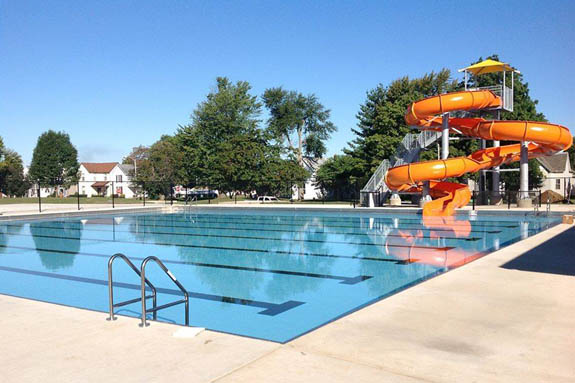 721 21st Street Logansport IN 465947
574-753-8806 (Summer months ONLY)
2023 Pool Manager: Hannah Bushaw
2023 Assistant Pool Manager: Claire Kitchel
2023 Opening Date: June 6
2023 Closing Date: August 5
Hours: Noon- 6 p.m. Tuesday through Sunday. Closed Mondays
Splash Pad is open and free of charge. Splash Pad hours during hot summer months is 11 a.m. – 9 p.m.
ACTIVITY FEES


Child ages 5-16

$2 per person

Adult, ages 17 and older

$5 per person

Child or Adult to use

$45 for 20 visits

Swim Lesson (8, 30 minute sessions)

$35 per person




POOL RENTAL RATES

The Pool is available to rent for private parties. The entire facility is available and guards are provided. Reservations can be made at the pool. Contact the Pool manager at 574-753-8806 for more information. No deposit required. Fees include: $140 per 2 hour rental or Non-Profit Discount: $120 per 2 hour rental for parties up to 30 people. Parties larger than 30 will have an additional fee to cover the cost of having more life guards on duty.

SWIM LESSONS

Parents can sign up at the Muehlhausen Aquatic Center during regular operational hours OR sign up online by using this link: https://secure.rec1.com/IN/logansport-parks/catalog

Swim Lessons are offered throughout the summer to any person 4 years of age and older. Children 3 years and younger can sign up for our Mini & Me classes. For novice swimmers, lessons focus on water safety and elementary skills. Lessons for more advanced swimmers will focus on strokes used in competition. Adults interested in advancing their swimming skills should make individual arrangements with the Pool manager. The cost per session is $35. There are 3 sessions that include 8-half hour classes, which run Tuesday through Friday for two weeks. Saturdays are then available as make-up days when weather causes a class to be cancelled. Call the Muehlhausen Aquatic Center at (574) 753-8806 for more information.