City Trails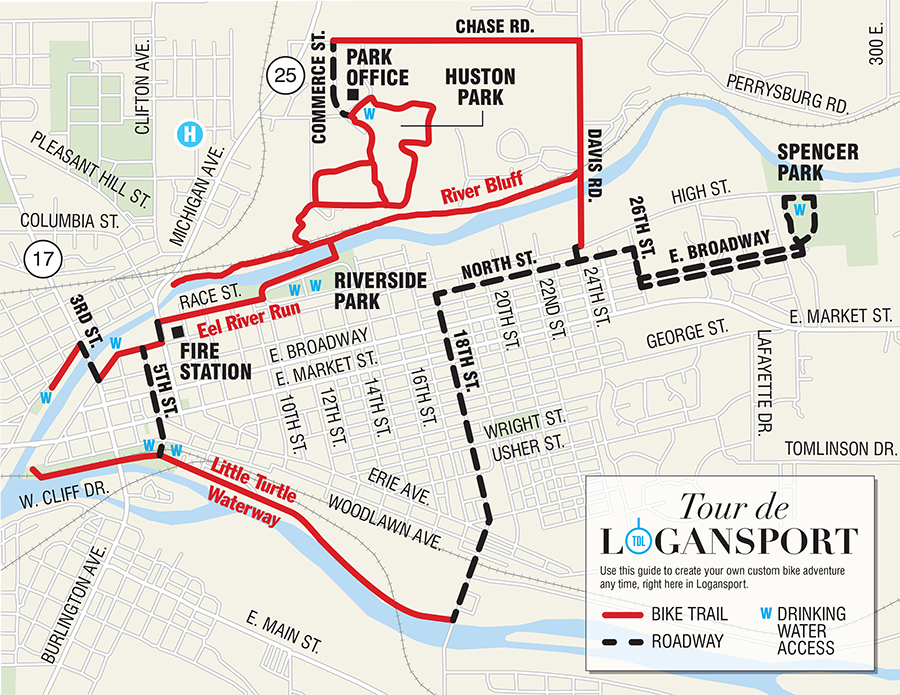 Discover more about Logansport and other nearby multi-use loops, trails, & pathways by clicking below on the one that you are interested in:
These trails/walking paths are managed by Logansport Parks:

Eel River Run

Fairview Park Loop

Huston Park Trails

Little Turtle Waterway Trail

Riverside Park Loop

Spencer Park Loop

Tower Park Loop

Managed by other trail enthusiasts:

River Bluff Trail

Panhandle Pathway

France Park Trails

Trail Rules
Updated 12/05/2022 by City Council Ordinance #2022-42

Safety on Logansport's shared use trails is of great importance for all trail users. Trails are a shared public space where safety and courtesy make for a positive trail experience for everyone.
Please respect your fellow trail users.

Trails are for bicycle, roller blades, skateboards, and pedestrian use only. Electric scooters, golf carts & motorized vehicles are not permitted on multi-use trails (exceptions for handicap permits on golf carts, emergency & maintenance vehicles).

Obey trail signs. Stop at intersections and travel at safe speeds.

Do not litter.

Yield to pedestrians. Pedestrians always have the right of way.

Keep right and pass on the left. Warn trail users as you approach from behind.

Pets must be kept on a leash and in control. Clean up pet waste.

Respect private property and other trail users – stay on the trail. Do not pick, trample or disturb plants or flowers.

No marking, writing, or defacing of any equipment, structure, or pavement along the trail.

Users of the trail do so at their own risk.

To report maintenance issues, contact the Logansport Parks & Recreation Department at
574-753-6969

In the event of an emergency, Emergency Services should be notified by calling 911.
See a video from a Logansport trail enthusiast: Click here
---
Bike Lane Education Video