Star Party Scheduled for October 5th at Huston Park
September 25, 2019 at 10:14 p.m.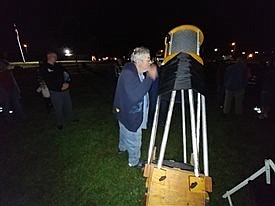 ---
---
Help us celebrate National Astronomy Day as we host a Star Party! Come participate in an opportunity to view Saturn, Venus, the Moon, and other celestial bodies with the use of telescopes. Also making brief appearances will be the International Space Station and the Hubble Space Telescope.  Professional Astronomer Forrest Hamilton will use his expertise at the Star Party at Huston Park on Saturday, October 5th from 8:00 -11:00 p.m. Those interested, will find Forrest with his telescopes near the McNarny Pavilion at Huston Park. Forrest will bring several large telescopes to guide participants as we view the stars and be on hand to answer any questions.

Those who have a telescope are encouraged to bring it and share with others.  Participants may also wish to consider bringing along a digital camera or cell phone to snap a few pictures of the brighter celestial objects through the large telescopes that will be present.  
If the evening is cloudy, the star party will not be held. Those interested will be able to find an announcement one way or another on the Logansport Parks & Recreation Facebook page.
Questions can be directed to the Parks Administrator, Janet Fawley at 753-6969 or e-mail at parksadministrator@cityoflogansport.org