DIY- Park Style! Ideas for app downloads!
September 25, 2019 at 9:27 p.m.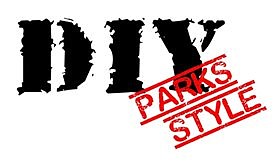 ---
---
Do It Yourself – Park Style? What do we mean by that?  We want to encourage you to make your own programs and activities in our parks!  DIY articles will give you some resources to do some exploring and create great family memories on your own!  This month's newsletter will give you some apps for your cell phone that will help you out! (For a link, click on the title of the game!)
The first app is the Biba Playground Game App.  You will find a bundle of games for you to play with your children on any playground in Logansport or any other playground.  Each Biba game presents imagination-centric adventures aimed at getting kids naturally active.  Simply select what equipment you have at the start of the game, and you are ready to play.  Biba games are simple to play and breaks kids away from sedentary video game experiences, and getting them outside where the real fun happens.
The second app is Lipa Land Games for Kids 3-6.  Lipa Land consists of educational games, activities, stories, and relaxing sounds – all in one place. You'll find:
• GAMES – Tons of educational games that adapt in difficulty to kids' needs.
• ACTIVITIES – Fun DIYs, quizzes, and activities for indoor and outdoor play.
• STORIES – Stories and audiobooks to enrich your family's bedtime routine.
• RELAXATION – Soothing music and relaxing sounds for a better night's sleep.
We also found an app call Best Kids Songs. You'll find 40 different kids songs that you can play anytime – with or without wifi. 
Lastly, Geocaching has long been a fun "find the treasure" activity for many years.  Throughout the Logansport Parks- and many other locations – there are caches for you to find.  Geocaching is now an app and you don't need any other piece of equipment to begin your search.  Get outside, get moving, and challenge yourself to find secret locations, solve challenging puzzles, connect with other geocachers, and explore parts of your world you never knew existed. There is probably a geocache near you right now - download the app and find out.