Little Turtle Waterway Trivia
October 3, 2018 at 3:32 p.m.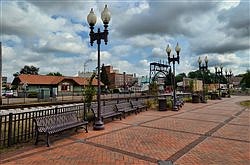 ---
---
Did you know that the Plaza pavement has thirty-two (32) granite insets, each one with a different picture from Cass County history. Each inset is numbered. Sometimes the number is hidden within the drawing. Can you find all thirty-two (32) insets?